Prof. Barbara Malič is Scientific Councellor and Head at the Electronic Ceramics Department at the Jožef Stefan Institute. She is also a Professor of Materials Chemistry at the Jožef Stefan International Postgraduate School.
She dedicates herself to the research of relaxor-ferroelectric ceramics material with exceptional electrocaloric properties. The collaborators showed for the first time that the electrocaloric phenomenon (the adiabatic and reversible temperature change in polar material is under the influence of an electric field) is critically dependent on the microstructure as well as the chemical composition. Multilayer ceramic elements with carefully designed microstructure, even after a million electric fields, show almost no reduction in the electrocaloric response and are therefore basic candidates for cooling technologies.
In cooperation with colleagues from the Faculty of Mechanical Engineering, University of Ljubljana and the Department of Condensed Matter Physics of the Jožef Stefan Insititute, users of electrocaloric materials confirmed a prototype cooling device that proved to be affective during testing. The invention has been patented in the EU, US and China.
Congratulations!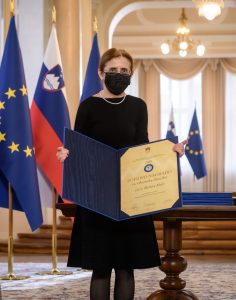 Photo by: Nebojša Tejić / STA