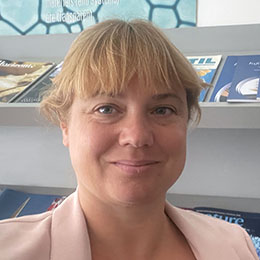 Prof. Dr. Hana Uršič Nemevšek
Senior Research Fellow
email: hana.ursic@ijs.si
p: +386 1 477 3936
EDUCATION
2010: Ph.D. in Nanosciences and Nanotechnologies, Jožef Stefan International Postgraduate School, Ljubljana, Slovenia
2005: B.Sc. in Physics, Faculty of Mathematics and Physics, University of Ljubljana, Slovenia 
RESEARCH POSITIONS
2018-: Senior Researcher, Electronic Ceramics Department, Jožef Stefan Institute, Ljubljana, Slovenia 
2013-2018: Researcher, Electronic Ceramics Department, Jožef Stefan Institute, Ljubljana, Slovenia 
2011-2013: Researcher, Centre of Excellence NAMASTE, Slovenia  (partial time)
2011-2013: Assistant with Ph.D., Electronic Ceramics Department, Jožef Stefan Institute, Ljubljana, Slovenia
2010-2011: Post-doc, Institute of Materials Science of Madrid, Spanish National Research Council, Spain
EDUCATIONAL ACTIVITIES
2021-: Professor, Jožef Stefan International Postgraduate School, Ljubljana, Slovenia (leader of course "Local electrical, electromechanical and thermal properties of the sensor materials"; lecturer of course "Introduction to Nanosciences and Nanotechnologies", "Sensors and Sensor Technologies" and "Advanced Topics in Nanosciences and Nanotechnologies")
2016-2021: Assistant Professor, Jožef Stefan International Postgraduate School, Ljubljana, Slovenia (leader of course "Local electrical, electromechanical and thermal properties of the sensor materials"; lecturer of course "Selected Chapter from Nanoscience and Nanotechnologies II)
2013: Assistant, Jožef Stefan International Postgraduate School, Ljubljana, Slovenia
AWARDS
2020: Excellent in Science 2020, Slovenian Research Agency (coauthor of the achievement "Innovative approaches to controlled functional responses of multiferroics")
2019: Excellent in Science 2019, Slovenian Research Agency (coauthor of the achievement "Demo Cooling Device Based on the Electrocaloric Effect")
2018: M-ERA.NET European project Integrated sensors with microfluidic features using LTCC technology has been awarded the title of "Success story M-ERA.NET" (H. Uršič Nemevšek leader of JSI part).
2017: Excellent in Science 2017, field technology, Slovenian Research Agency (coauthor of the achievement "Interpretation of electrical conductivity of domain walls in bismuth ferrite")
2017: Director's Fund "Laboratory for the ultracool preparation of complex oxides", Jožef Stefan Institute, Ljubljana, Slovenia
2016: Editor's selection of the best scientific contributions published in Applied Physics Letters (article vol. 106, 043903, 2015)
2014: The award for the "The best success story", COST SIMUFER Action MP0904, Bucharest, Romania.
2008: The award for the "Outstanding work of Young scientist", the IUMRS International conference in Asia, Nagoya, Japan.
INTERNATIONAL AND NATIONAL MEMBERSHIPS
2022– : Deputy Chair for Women-in-Engineering of Ferroelectrics Committee IEEE UFFC
2022– : Administrative Committee IEEE UFFC
2020– : Society for Microelectronics, Electronic Components and Materials - MIDEM, member of the executive board of the association and member of the honorary tribunal
LINKS